News of February 2021
Latest news
16.02.2021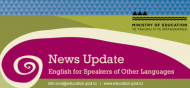 Here is a link to the web version of the February ESOL Update, sent to schools this week.  https://a.smartmailpro.com/webv/laddb1pqit ... Read more »
10.02.2021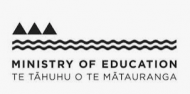 Funding applications for English for Speakers of Other Languages for Terms 1 and 2, 2021 are due by Monday 1 March. Please update the 2020 Period 2 (Terms 3 and 4) status list ... Read more »
English for Speakers of Other Languages (ESOL) funding application professional support – Zoom information sessions
The Ministry of Education ESOL team will be hosting two optional Zoom sessions explaining how to apply for ESOL funding. The 45 minute sessions will begin with a step-by-step explanation of how to apply for ESOL funding followed by an opportunity for Q & As.
These sessions are targeted at those who are new to the role of applying for ESOL funding, or those who would like a refresher. Those who are familiar with the ESOL funding process do not need to attend.
The Zoom sessions will be held:
3:30 – 4:15pm, Wednesday 17 February 2021
3:30 – 4:15pm, Thursday 18 February 2021
You only need to attend one of the two sessions, as both sessions will cover the same information.
This is an open invite and anyone is welcome to attend. Please pass on the details to colleagues who may be interested.
You do not need to register for these sessions. If you are interested in attending, we recommend you block out the time in your calendar as a reminder. Please join the Zoom link to the session you wish to attend at the time specified above.