Samoa Language Week 2022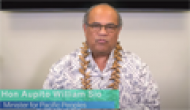 Tālofa lava. This week kicks off the first week of the Pacific Language Weeks 2022. 
From Sunday 29 May–Saturday 4 June we celebrate Gagana Samoa | Samoan Language. 
This year's theme for Vaiaso o le Gagana Samoa – Samoa Language Week is Fa'aāuāu le Folauga i le Va'a o Tautai – Continue the Voyage with Competent Wayfinders of the Ocean. 
From the Ministry for Pacific Peoples you can download FREE resources including Gagana Samoa | Samoan Language cards to build your confidence in the classroom. 
Keen to learn more ways to celebrate Pacific culture and language? Education Gazette published a useful list of resources to broaden your knowledge and inspire your practice.
Published on: 30 May 2022