Latest MOE ESOL Update – September 2020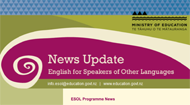 we look at statistics from the latest funding payment which was made this month to 55,090 students in 1,524 schools. 
we alert you to TESSOL tuition fees scholarships which are available for teachers and senior leaders.
we look at the current situation around refugees entering New Zealand and congratulate AUT on a highly successful South Island roadshow focused on support for former refugees. 
we remind you about the new ELLP Pathway Year 1–8 resources available on the website.
as schools investigate ways of using the ELLP Pathway resources, we look at how Glenfield Primary School included these resources in their professional learning while in lockdown.
Published on: 29 Sep 2020